The perfect high-quality for any pilot forward to a premium ANR headset, Sierra proposals a better involvement for you and your customers.
Step up to the creation of premium ANR headsets through the value-priced Sierra. ANR and Bluetooth connectivity take top-of-the-line geographies to Sierra and an adjustable headband proposal allows microphone appointment on the left or right.
Quiet and easy, the premium Sierra ANR headset is value-priced yet still distributes quality on advanced structures like Bluetooth connectivity, ComPriority™, plush ear seals, and a changeable headband considered for left or right microphone placement.
Lightspeed Aviation Category or Product
Description
Features
Tech Specs
Soft and contented, the premium Sierra ANR headset is value-priced yet still brings quality on progressive features similar Bluetooth connectivity, ComPriority™, plush ear seals, and a reversible headband designed for left or right microphone placement.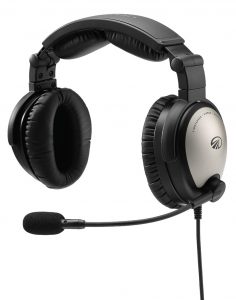 All of Lightspeed's innovative ANR technology is supported by durable fiber-reinforced polymer creation. Your exploration ends here for an ANR headset that is both high-quality and budget-friendly. Sierra is well-suited with FlightLink™, the first in-flight cockpit recording request for Apple iPad and iPhone. With full Bluetooth integration, enjoy outstanding call clarity, music fidelity, and wireless access to critical audio alerts from aviation apps on mobile devices.
Superior quiet – Active noise dissolution over an extensive range of low-frequency noise brings state-of-the-art expertise to Sierra.
Comfort and durability – Weighing just 16 ounces, Sierra is light on the head. Covering nearly 10 square inches of external area, the ear seals create a improved seal and greater supply of side compression.
ComPriority – Never miss significant radio communications. ComPriority features Lightspeed-patented knowledge that mechanically lowers the capacity of any auxiliary device during radio or intercom programs.
Reversible microphone – Our exclusive design permits for right or left microphone assignment so you can fly with technology on your side.
Mobile phone and music connection – In accumulation to full Bluetooth connectivity, Sierra offers a combined control box support input, making it easy to connect a mobile phone, iPad or music/audio device.
FlightLink – Capture incoming and outgoing communications with Lightspeed's free FlightLink recording app for Apple iPad and iPhone via the supplied patch cable. This app is exclusively available on Lightspeed headsets.
Included accessories – A music/audio patch cord, cord clip, two AA batteries, a carrying case and a foam windscreen are included with every Sierra.
Available configurations: Dual GA plugs
Headphone Impedance
OFF Mono-180 Ω, ON Mono-300 Ω
OFF Stereo-250 Ω, ON Stereo-600 Ω
All @ 1kHz
Speaker Frequency Response (Active)
20Hz to 20kHz (volume sliders max)
Microphone Electret
Bias: 8-16V (Not polarity sensitive)
Bias Resistance: 220Ω-2200Ω
Sensitivity Electret
20mV-80mV across 8-16V
Bias Re: 94dB SPL input at 6mm
Frequency Response
200Hz-6000Hz
Maximum SPL for Microphone
114db
Power Source
Battery: 3V, 2(AA) Alkaline batteries (Average battery life 40 hours)
Maximum SPL for ANR
> 120dB @ 100Hz
Weight: 16 oz.
Bluetooth Enabled Phone: Yes
Bluetooth Streaming Music: Yes
D-67 Defence Colony, GF
New Delhi – 110024, India
View our 2020 GPS India Product prospectus of brochure for an easy to read guide on all of the services offer.