Rugged handheld navigator with preloaded worldwide basemap and 2.2-inch monochrome display. WAAS-enabled GPS receiver with HotFix and GLONASS support for fast positioning and a reliable signal. Waterproof to IPX7 standards for protection against splashes, rain, etc.
GPS & Navigation
Friendly Operation
Design, Portability
Durability,Battery
The Garmin GPS etrex10 is a compact Global Positioning System that gives you the perfect blend of portability and utility. The GPS has a large 2.2 inch Monochrome display that is easy on the eyes.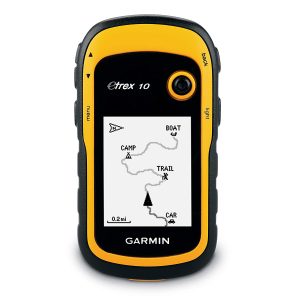 It also helps to conserve the battery of the device so that it lasts longer making it ideal for faraway trips and journeys.
The GPS comes pre-equipped with maps from all over the world. The device can be used for finding your location to the exact point, locate terrains and calculate distances as well. The Garmin GPS offers you several details about the area that you are in and want to travel to. It comes with a very user friendly operating system and interface that enables you to navigate with ease through a variety of different routes and terrains. The GPS has a built-in receiver that tracks the GPS and GLONASS satellites at the same time, so that you get the utmost accuracy. The device also comes with a single USB port.
The GPS is a powerful device that comes in a compact black and yellow coloured body. It is very easy to use and comes with high sensitivity sensors. It has a worldwide base map. The GPS is waterproof and is highly durable. You can use it during demanding and harsh conditions while travelling. The Garmin Etrex10 is a perfect blend of utility and packs powerful features in a compact design. The display of the device is a monochrome display, so it does not use much of your battery and can power the GPS for a longer period of time.
| | |
| --- | --- |
| Brand | Garmin |
| Model Name | Etrex 10x |
| Batteries: | 2 AA batteries required. |
| Flash Memory Installed Size | 2 |
| Included Components | GPS |
| Number Of Items | 1 |
| Screen Size | 2.2 Inches |
| Colour Screen | No |
| Batteries Included | No |
| Batteries Required | Yes |
| Wireless Type | Radio Frequency |
| Total Usb Ports | 1 |
| Material | Plastic |
| Contains Liquid Contents | No |
| Includes Rechargable Battery | Yes |
| Includes AC Adapter | No |
| Includes External Memory | No |
| Supports Bluetooth Technology | Yes |
The GPS is a paperless geocaching device that is highly durable and houses the receiver in a rugged body that is designed to stand harsh weather conditions. The device retains its utility even during compact travel routes and tracks. It is entirely waterproof in nature which means that you can carry it through rains and damp conditions. The GPS is powered by two AA batteries which deliver up to 25 hours of functionality in one go. When you run out of batteries, you can just swap them up for new AA batteries. The GPS device has a very sensitive interface which enables it to store over 1000 way points and reference locations. Hence, it is an ideal device for frequent travellers. Moreover, it is fairly easy to use and can be used by amateurs and professionals alike.
D-67 Defence Colony, GF
New Delhi – 110024, India

(+91-11) 4174 0346/7
View our 2020 GPS India Product prospectus of brochure for an easy to read guide on all of the services offer.